War films come in all shapes and sizes. And most by definition recall ones that have been made before. It's impossible, for example, to do a war film involving an American training camp without getting major echoes of Full Metal Jacket. But the problem is that's what it's actually like, so either a film is going to be like a previous film, or not be genuine. With Clint Eastwood's latest film, American Sniper, there are a sea of other films that it recalls, and while that may not drown the film in and of itself it just bobs along with the tide waiting to hit land and be over.
For American Sniper, essentially, is Enemy at the Gates meets The Hurt Locker, as we follow "the most lethal sniper in U.S. history" from wannabe-cowboy to prolific legend of the SEALs going up against a former Olympic champion. Bradley Cooper is charged with anchoring the film and he gives one of his least interesting performances in recent years in the process. Bulking up to play the role, his face here is devoid of expression and the laid back, uncharming character he has to portray doesn't play in to any of his strengths as an actor. Cooper is a compelling presence, but he primarily does manic and frenzied very well. It's easy to see why he would want the challenge of doing something different, but when he is asked to brood away and let the chinks of light through the facade his fleshed-out, bearded face doesn't deliver.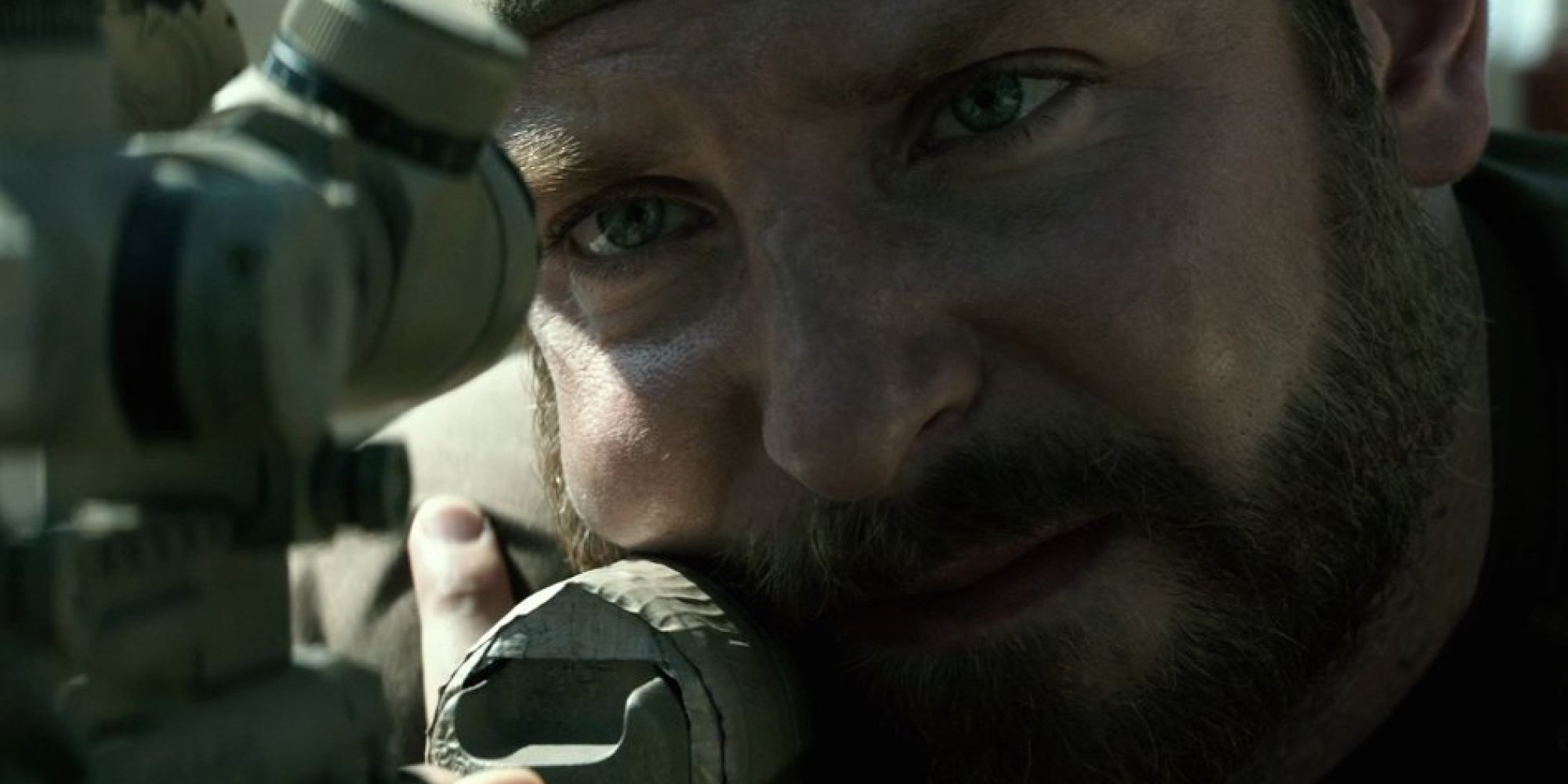 The basic journey of enthusiastic, naive and patriotic newcomer to frazzled, disillusioned and damaged veteran is a very familiar one, and framing the dramatic narrative around a mutual hunt between two elite snipers doesn't detract from the generic feel this film has. Enemy at the Gates, at the very least, showed things from both characters' perspectives and that film benefitted from that very much. Here, it's all about Cooper and his story-less nemesis is more of a plot-device than anything to be remotely fascinated by.
Ulltimately, American Sniper is decidedly undercooked and skated-over at every turn. Cooper's relationship with his wife (Sienna Miller, trying far too hard) is trite and full of gaps, as is his military history which this film is focusing on so much. For a man doing 4 tours you would think he killed people every time he left the base given what this film shows, and the very fact that if he killed 6 people in one go then on average he'd have 5 weeks after that not shooting anyone, that is never looked at. This is really the opposite of Jarhead, where Jake Gyllenhaal's sniper never pulled the trigger. The need to be constantly on your toes and 85% of the time nothing coming of it would add layers to this story that this film has no intention of exploring.
The result is a film that is very familiar and fairly watchable as a result of that familiarity, but due to that it says nothing new, gives no real insight, overlooks many things, and doesn't really succeed fully in anything that it actually tries to do or achieve.